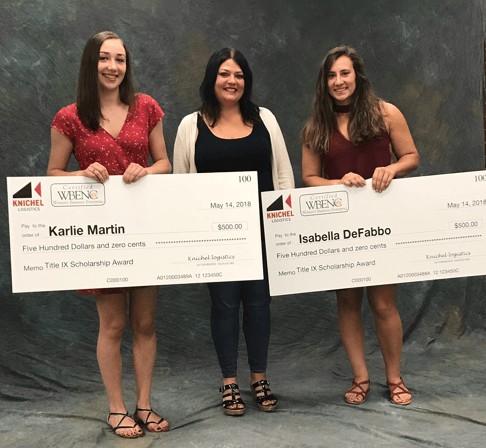 Last night was the presentation of the Knichel Logistics Title IX Award, an annual scholarship given on behalf of the Western Pennsylvania Positive Athlete program. This year's award was given to two very deserving female student athletes from Seneca Valley High School. Isabella DeFabbo and Karlie Martin, both seniors at Seneca Valley, were presented their awards by Kristy Knichel. We foresee great things from both of these hard-working and motivated individuals!
About the winners (per their nominator):
Isabella DeFabbo – Senior – Soccer/Lacrosse
"Isabella is a positive athlete due to the determination and respect she shows on and off of the soccer field. She is currently a National Honor Society student, volunteers at Children's Hospital in Pittsburgh and is also involved in the Best Buddies program at the Seneca Valley school district. This program involves working and collaborating with special needs children. In addition to her proactive habits as a goalie for the Seneca Valley girl's soccer team, she worked with her fellow teammates and created a service project to support children with special needs. Bella and her teammates collected gently used clothing and new clothing to provide to children K-12. Along with clothing, they composed positive notes to send to the children. Isabella is also involved in Miracle League, a baseball program for special needs children, and she also volunteers at Gleaner's Food Bank in Cranberry Township. Her GPA is a 3.84 and her class rank was 33/560 as of the end of the 2016-2017 school year. Isabella's career interests include studying nursing, then continuing her education to become a CRNA."
Karlie Martin – Senior – Basketball
"As the Head Girl's Basketball Coach at Seneca Valley High School, it gives me great pleasure to recommend Karlie Martin for the Western Pennsylvania Positive Athlete Award. I have had the privilege of coaching and getting to know Karlie since her freshman year. I have really come to appreciate her many fine qualities as I have watched her excel both as a player and as a person. Karlie is one of the most impressive young people that I have ever met, both in my 20 years of coaching and 25 + years in the business world. Her maturity and motivational skills have been one of the main reasons for the positive changes in our program. Karlie has a leadership quality that is not taught. Her personality and work ethic drive people to believe in themselves for a greater outcome. Karlie's personality is very easy-going and responsive to others. She is not only a leader in our basketball program, but also in our community. Karlie is a three-year varsity letter winner in basketball, she is in the top 10% of her class, and she is the first player to volunteer to assist the coaches with our elementary program and clinics. In closing, Karlie understands the value of goal setting and the hard work that goes with achieving those goals. She has shown the ability to overcome adversity while we build our program and the willingness to put in the extra time to keep improving. She realizes that success can only be obtained through hard work and approaching each task with a positive attitude. She motivates our team by helping them understand that their individual effort is more important to the success of the team than it is for individual accomplishments. Her classmates, teammates and our staff hold Karlie in the highest esteem. I have no doubt that Karlie will excel in whatever endeavor she chooses."
About Positive Athlete:
Positive Athlete Western Pennsylvania, led by former Steelers great Hines Ward, is a movement by high-character athletes in Western Pennsylvania to promote the benefits of "positivity" to young athletes. These athletes believe it is crucial to begin shaping the futures of young athletes for life skills beyond athletic competition. Over $50,000 in college scholarships have been awarded through this movement which generates over 1,000 nominees each year. They honor high school student-athletes from all over Western Pennsylvania who have overcome difficult circumstances, have given back to their schools and communities in significant ways, or just have an infectious positive attitude that brightens everyone's day.