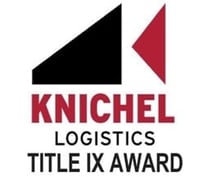 And the winner is...Ashley Pesarsick! Ashley was chosen as this year's Title IX award winner which is sponsored by Knichel Logistics. She was presented with her scholarship at the Heinz History Center on June 17th. Ashley is currently a Junior at Norwin High School and is a member of the girls' tennis team.
About Ashley:
Ashley is an amazing player (1st singles on Norwin Varsity). She has true talent for the sport and is very dedicated. Despite her daily challenges with Type 1 Diabetes and Juvenile Rheumatoid Arthritis, she manages to excel in the sport and overcome her challenges. It can be very difficult, especially when the court surface reaches 120 degrees in the summer, but she never complains and pushes through even to the point where it affects her health. She achieves the highest level of honors as well academically. She's an amazing young lady!
She is an outstanding athlete who is the best team player. Her coach from last season nominated her, but this year she was also the team captain and could not have done a better job. Ashley has Type 1 Diabetes so juggling her disease (via an insulin pump) in the extreme heat that we had this summer while performing for her team was a huge challenge that she should be very proud of herself in accomplishing. Her individual record for the Norwin Varsity Tennis Team was excellent, and this is her 3rd year that she lettered (she's a junior). She truly deserves this award!
This past season, being her third year playing on the Norwin girls varsity tennis team, she played second singles and was chosen by her current coach as a captain for the team. She has been an extremely important asset for the team and for the girls, as Ashley absolutely loves spreading positivity and encouragement to the underclassmen and other girls on the team. She also loves that they view her as a mentor and best friend they can always count on.
This is her second year being nominated as a Positive Athlete by two different coaches, and as you can see, it is clear that she deserves every aspect of this nomination for several reasons.
Congratulations Ashley! To learn more about the Positive Athlete program, check it out here. It's a wonderful organization that really empowers young athletes to be their best.