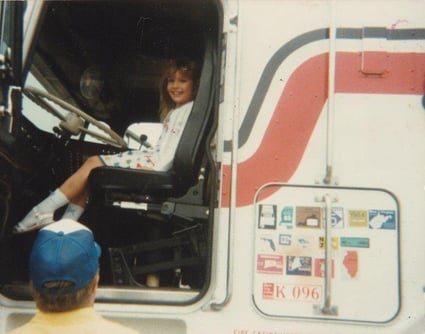 Knichel Logistics, a family-owned and operated transportation and logistics company, was founded in April of 2003 by William Knichel, along with his three children—Kristy, Kandy, and JR. The family used their combined experience and connections from years of working in the transportation and logistics industry to build and expand Knichel. Now, nearly 20 years later, the company has amassed great success.
Bill had a lengthy career in the transportation industry that spanned over 40 years. He initially worked at the Kansas City Southern Railroad and then went on to the Missouri-Kansas-Texas (MKT). In the 1980's, he began his work in the Intermodal marketing business with National Piggy Back, moving on to work with Fort Pitt Consolidators before starting his own agency with MCS, which ultimately became Cornerstone Systems, in 1995.
Kristy Knichel, current president and owner, knew from a young age that if she wanted to be successful, she needed to work hard. She got her first job when she was 16 years old and even opted for a work release her senior year of high school. She tried out some college, but decided it wasn't for her. While managing two separate pizza shops at the age of 19, her father visited her and convinced her to try her hand in logistics.
She quit one of the pizza shops and began working with her father at Cornerstone as an intermodal dispatcher in 1997. As she began to master her role, she quit the other pizza shop to dedicate herself more to the IMC. Over a short period of time, Kristy moved up the ladder and through different roles; she worked her way to HR, pay roll, collections and claims, pricing, LTL, and finally to truck brokerage and booking trucks. Her sister Kandy and brother JR also joined their team.
With all of his children working with him and wanting to be able to retire, William decided to start-up Knichel Logistics for him and his family. It started out as a small logistics company with only a handful of customers, one service and 10 employees. They discovered that opening your own business is very difficult and risky- their first year, they only made an annual income of $2 million. Still, they continued to persevere, using their combined skills acquired to create the best 3PL they could.
Over Knichel Logistics' nearly 20 years of operations, there have been some ups and downs. In 2013, they had hired an outside chief operating officer (COO). This ended up being a poor decision as he costed the company a lot of time, money, and employees. After having their worst year in 2013, they let him go and promoted Jon Krystek to be the new COO in 2014. Jon had been with the company for 11 years at this point and was someone Kristy respected and trusted very well.
Eventually, William decided to step away from the business and spilt his shares among his children, giving Kristy the majority. With Kristy being the main owner and leader, Knichel Logistics was able to become a certified Woman-Owned Business in 2013. She also helped propel the company, adding and improving services and employee experience. In 2015, they partnered with BlueGrace Logistics to better their LTL services and continue to work with them to this day.
In January of 2022, William Knichel sadly passed away, however his legacy lives on. Today, Knichel Logistics offers a wide variety of services, including a large network of freight agents, carriers, and contracts with all Class 1 railroads. They also now have over 65-full time employees, and provide services for hundreds of customers, from small business to the largest corporations across the US, Canada, and Mexico. While Kristy's sister is no longer actively working at the company on a day-to-day basis, two of William's children remain owners. From being a small business with only a handful of customers and employees to being trusted by hundreds of people to help deliver goods to over 300 million Americans, Knichel Logistics has grown exponentially over 20 years.