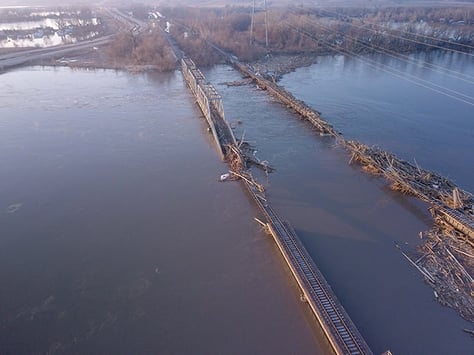 Freight delays. It's something that happens to every shipper, unfortunately. Despite our best efforts as transportation providers, there are times when delays are unavoidable. Catastrophic weather events, such as the recent flooding in the Midwest, are prime examples of unavoidable transportation disruptors. Here is a comprehensive breakdown of what can make your less than truckload freight late:
Weather: Inclement weather was just mentioned, but bears further explanation. Weather related freight delays can be quite frustrating but are the most clear-cut cases of unavoidable delays. The recent catastrophic flooding in the Midwest most easily comes to mind and it impacted nearly all modes of transportation that rely on the Chicago freight corridor and the surrounding areas. These instances are not only impactful on the region they affect, but they also impact freight nationwide. In this instance, terminals were shut down around the Chicago area during the flooding and after while recovery efforts were taking place. When this occurs, everything comes to a standstill. From there, the freight continues to pile up and can cause extenuated delays for quite some time after the actual weather event has come and gone. Depending on the severity of the event, it can take road and rail crews significant time to repair routes.
Billing Delays: If the shipper doesn't use the proper paperwork, the carrier might be billing incorrectly. This can cause delays because if it is billing collect, the carrier will try to collect payment from the receiver before delivering the freight. They also might hold the freight at a terminal until the correct billing is applied.
Accessorials or Special Deliveries: Some shipments may need a lift-gate, deliver to a residence, grocery warehouse, trade show, or to a rural area, which can all add transit days onto delivery. Not all trucks are equipped with lift-gates, and depending on demand of the lift-gate, your freight might be delayed a day or two. Some grocery warehouses have special consolidation programs in place with LTL carriers as well, where the carrier will wait until they have a trailer full of the particular customer's freight to make delivery. Lastly, there are some areas that are quite far from the local terminal and are considered "rural" pickups. These typically are only serviced on certain days of the week.
Delivery Appointments: For all shipments that require a delivery appointment service, at least one day will always be added onto the estimated transit time. This is standard for LTL shipments and the reasoning for this is such – the appointment personnel at the terminal will not schedule any appointments with the consignee until it is confirmed that the freight is physically at the destination terminal already. For residential freight deliveries, appointments are always needed. Just keep this in mind, as this is standard procedure and many people can be unaware of this.
High Freight Volumes: So "high freight volumes" kind of sounds like an excuse that gets tossed around a lot to explain away delays, however in reality this is a significant issue at times. For large LTL carriers, they are reliant on hubs around the country to transload and store LTL freight. Even though these hubs are spread across a variety of cities nationwide, they all receive large quantities of freight daily. So much freight passes through these hubs that they can't move it out as fast as it arrives. Therefore, the solution to ease congestion at the hubs is to prioritize shipments onto trucks based on when the freight arrived and service level that was needed, thus causing a delay. Also when bad weather affects terminals with closures, high freight volumes become a bigger issue as well. There are a lot of shipments stuck with nowhere to go!
We know that any freight delays can be incredibly frustrating, and as a transportation provider we always strive to minimize delays whenever possible. Sometimes though, as shown above, transit delays can be unavoidable. Hopefully this clears up the most common reasons why your LTL freight might experience a transit delay!