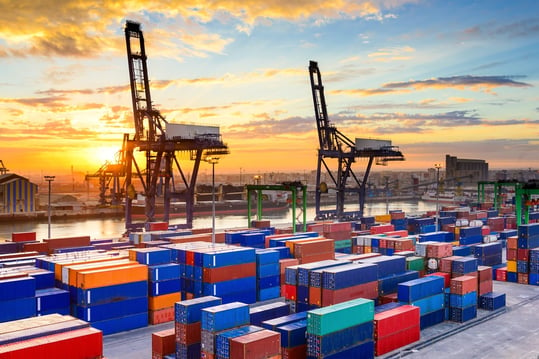 "I have never seen a market like this in my entire career." That is how CEO Kristy Knichel sums up the freight market in 2018. This says a lot coming from someone with 25 years in the industry. With that in mind, expect these current market conditions to continue well into 2019 and potentially beyond.

Railroads are operating at peak capacity
The Union Pacific stated that they were experiencing higher freight volumes in June of this year than they were in the height of peak season of 2017, strongly indicating that we are already well into peak season, which is much earlier than usual. Their contractual market is booked up meaning that the UP will not entertain any new business due to being over capacity. For their part, the UP has added 3500 new steel EMP boxes and 2850 chassis to help alleviate the upcoming fourth quarter crush. However, the adding of new boxes alone will not help fluidity. They are also attempting to add crews and train power, yet we anticipate there will not be a lot of relief felt during the fourth quarter despite these efforts.
There is currently a surge out of L.A. and NorCal that will continue to rise. The surge surcharge will likely go into effect soon for other contracts, however there is not a definitive date nor do we know what the amount will be. The UP has stated that they will likely be putting surge surcharges in place for contractual customers shipping above their normal volumes going forward. Those impacted will be contacted with more information. If you are not under contract, then it should be noted (if not already known) that you will be paying high spot/transactional rates.
In order to get through the peak season capacity crunch, decreasing dwell time is key. Customers will need to modify previous behaviors by being flexible with appointment times and moving to live loading and unloading. Providing more lead time to find capacity to book loads is also crucial. At present, at least two days notification are required. Also bear in mind that capacity dips on Fridays due to some carriers not operating.
An eye on contract compliance
An important item to note in regards to contracts is that the rails are very closely monitoring volume compliance. They are tracking volume on a weekly basis – something else that has not been done at this level prior to this year. Any customers that are falling below 75% on their committed volume are being monitored with the intention of cancelling contracts due to non-compliance. The railroads are already starting to cancel contracts that are well below compliance and will likely become more stringent when it comes to defining what constitutes non-compliance. This would push more customers to a transactional model which is much costlier for the customer and more profitable for the railroads.
The market is also dictating that storage and per diem charges will increase, so be prepared. Several markets for spot pricing have already been blacked out and more are expected to follow as capacity tightens around the country. Intermodal capacity is more than just securing a box! It's a driver, a chassis, the terminal, and the train all combined. All of these separate entities need to be coordinated and running smoothly to keep delays to a minimum.
Tips for surviving peak season
Reduce dwell times by making sure dropped containers are filled and turned in a timely manner.
Do not cancel your shipments at the last minute.
Create efficient street turns by not letting boxes sit at shippers or consignees.
Block and brace properly! Incidents cause equipment damage, increase shipper costs, delay transits, and can cause derailments.
Be a shipper of choice. Be flexible with appointment times, give ample time (at least two days) to secure capacity, reduce wait times at your docks, and be kind to your drivers. Allowing them to park at your facility, use the restrooms, and providing something as simple as water can go a long way in making a carrier choose to repeat business. Being a driver is a very hard job!
Highway – high rates, low capacity
On the truckload side, rates are nearly as high as they were in January with some cross-country loads moving at rates as high as $10K. It is incredibly difficult to find and hold onto trucks in this market. A word of advice for customers trying to secure truckload capacity – give as much info as you can up front and be quick to make a decision. Carriers don't really lock down rates and they won't wait for your load, so if you have a target price or a limit, it is in your interest to let us know.
Also keep in mind that since the ELD mandate went into effect, drivers have dropped from averaging around 550 miles per day to 450 miles. Something as seemingly non-consequential as having morning receiving hours can cause a carrier to reject a load due to inconvenience. They are definitely not having issues finding freight. Be flexible in order to secure capacity and be a shipper of choice.
This is definitely the toughest market any of us have dealt with to date. We are seeing rates fluctuating on a weekly basis. However, we will get through this by working together. The best way to do so is by being transparent with one another and creating true partnerships. The more we know about your needs, the better prepared we can be to find the solutions you want. And in this market more than ever, time is critical. Between the time it takes to make a phone call and get a decision, a carrier may have already booked a load with someone else.