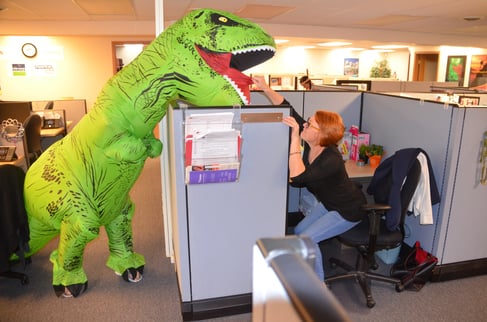 As per Knichel Logistics annual tradition, Customer Service Week was celebrated this week in the office. Just in case you did not know, Customer Service Week is an international celebration of the importance of customer service and of the people who serve and support customers on a daily basis. In 1992, U.S. Congress proclaimed Customer Service Week a nationally recognized event, celebrated annually during the first full week in October.
Well, we settled on the second week of September this year because we want to make sure everyone is available to participate in the festivities! It's basically a way for us to say THANK YOU to the people who keep Knichel Logistics running - our awesome employees! So here's what the Knichel crew got up to this week, along with some VERY interesting pictures:
Monday: Crazy Hat and Slipper Day with donuts and bagels for breakfast and lots of fun games!
Tuesday: Disney Character Dress Up Day! Also Dessert Day with ice cream from Churn and baked goods from Oakmont Bakery!
Wednesday: Our main theme day - Christmas in September! This day revolved around Christmas and included dressing up in Christmas-related garb such as elves, decorations, snowmen, or ugly sweaters. For food, it was a Family Style Christmas Potluck lunch that included items from a homemade Christmas dinner!
Thursday: Mismatch Dress Up Day with Kona Ice truck slushies!
Friday: Pajama Dress Up Day with pizza, wings and salad for lunch. Also the winners were picked for the gift basket auction and winner take all raffle!

Needless to say, it was a wonderful fun-filled week! Customer Service Week is definitely the best work week of the year. A big shout out goes to Tina for putting everything together each and every year. Also T-Rex (aka Tammy) definitely livened up the week! There are some pictures below of the festivities, but check out our Facebook page for ALL of them!