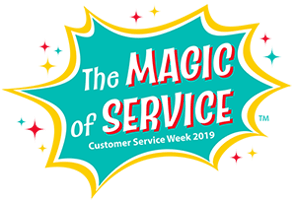 Every year Knichel Logistics participates in Customer Service Week. Customer Service Week is an international celebration of the importance of customer service and of the people who serve and support customers on a daily basis. Today marks the final day of Knichel Logistics' Customer Service Week and we wanted to share the highlights of our employee celebration!
Here was the week's agenda of fun:
Monday - Donuts and bagels for breakfast and dress up was Mismatch Monday
Tuesday - Desert day and dress up was Tie Dye Tuesday
Wednesday - Beach Party theme!! Grilling outdoors and beachwear for dress up plus beach drinks!
Thursday - Kona ice truck and dress up as the future older version of yourself
Friday – Pajama day and pizza, wings, salad and beer cart Friday

In-office massages were held throughout the course of the week so everyone had a chance to get one! Numerous games were held to win tickets for the prize auction as well, such as plank races, chair races, and putt putt golf.
Things that went on all week included:
1. Caught in the ACT – This is where you see a coworker going above and beyond and let the office know how awesome that person is by filling out a Caught in the Act form and hanging it on the bulletin board. The person with the most acknowledgements wins a prize.
2. Winner Take All – This is a raffle ticket for $5 (can buy as many as you want). The amount collected is matched by Knichel Logistics and the winner is picked on Friday. Last year Lauren won $740.00!
3. Prize Auction – Tickets can be earned all week from different games and dress up contests. Tickets won are to be placed in the bags in front of the prizes you would most like to win. Prizes are capped to 2 per person and there are consolation prizes for those that don't win an auction prize, so everyone gets a chance to win something.
Thanks to Tina for organizing this awesome event every year! We hope that everyone had a blast - check out our pictures below!