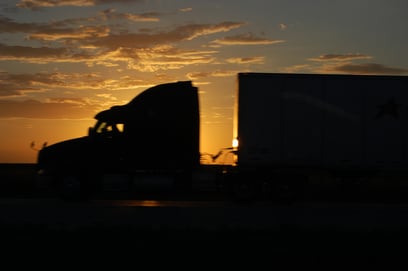 Updated Personal Conveyance
On May 31st, FMCSA updated the "personal conveyance" guidelines for truck drivers in order to provide them with some relief when it comes to finding a safe place to park during this new era of electronic logs. Drivers are now able to enter into personal conveyance status, whether their truck is loaded or empty, to find the nearest safe parking or rest location after their hours of service are exhausted without penalty.
Prior to this update, drivers were penalized with hours of service violations if they continued driving beyond their maximum on-duty hours to find a parking place for their truck. Considering that drivers are frequently held up by traffic or at shipper/receiver docks which counts as part of their on-duty hours, penalizing them for merely driving to find a place to park is unfair to drivers and counterproductive when it comes to safety.
In the past, personal conveyance use was prohibited if it advanced the current load in any way or positioned the driver closer to the next dispatch. However, FMCSA has realized that drivers often do not know where their next dispatch may be and very often the next safest parking location might be in the direction of their delivery site. This new flexibility has finally taken drivers into consideration.
New Technology with Drivers in Mind
Truck-stop operator Pilot Travel Centers LLC has developed one solution for the driver parking shortage. They have spent three years creating a parking app by using data from all of their 750 locations that enables drivers to reserve rest-stop parking at any of the Pilot Flying J's in North America.
Since pretty much everyone has a smart phone at this point and are well-versed in apps, it's a timely approach to solving a long standing problem. It also comes at a time when drivers are having more issues than ever finding legal parking due to the federal ELD mandate requiring truckers to track their hours electronically. Granted it is only one solution to the parking problem at this point, but it's a great start that will hopefully keep growing.