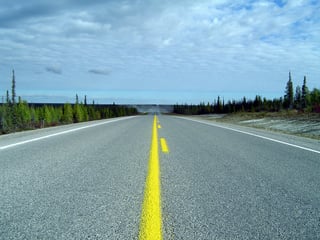 Not all freight fits into a container. We have probably all seen some interesting freight being hauled on the back of a flatbed going down the highway at some point. A flatbed trailer is a type of trailer as the name suggests. Its bodywork is just an entirely flat, level 'bed' with no sides or roof. This allows for quick and easy loading of goods, and consequently they are used to transport heavy loads that are not delicate or vulnerable to the elements. They are also used for abnormal loads that require more space than is available on a closed body.
The obvious difference between flatbed trucking and dry van trucking is the difference in freight. While dry vans haul mostly palletized loads, flatbeds haul a wide range of diverse loads. Pipe, I-beams, machinery, aluminum extrusions, steel coils and cable reels are only a few of the products hauled by flatbed trucking companies.
Flatbed trucking is a transportation service also available for oversized/over-dimensional, or wide load items. It is great to use for transporting heavy machinery, building supplies, or equipment. It is an option for items that cannot or do not have to be transported in a van.
There are two main reasons to use flatbed trucking for your transportation needs: versatility and variety of trailer types.
Unlike a standard van, a flatbed trailer is open and therefore can be loaded from all sides instead of just from the tail end. Because of this, loading is easier and more efficient and can be done from the ground with a forklift instead of having to use a dock. Also because it's open, it can take much bigger loads than most other transportation types.
There is a wide range of options available for flatbed trucking. One option for heavy equipment is called the removable gooseneck, which has a removable neck that can turn into a ramp so equipment can be driven on. This makes it easier to handle heavy cargo, and makes it safer for your cargo at the same time. There is also the step deck, which is good for tall cargo. The step deck can carry anything up to 10′ 2" high. Stretch trailers are ideal for extra-long loads and double drop trailers are another great option for tall loads.
Many people think the openness of a flatbed trailer makes it less secure, but that is not the case. The transported goods are tied down with chains and/or straps which keep them from sliding around on the trailer and from flying off. Most cargo can also be covered with tarps that protect it from the elements during the trip and also v-boards to protect from any damage that could happen from securing with chains or straps.
Flatbed trucking is your best option for your oversized loads and shipments requiring versatility in loading. Give Knichel Logistics a call to handle your over-dimensional freight. We can walk you through the best equipment to use and source a cost-effective rate.