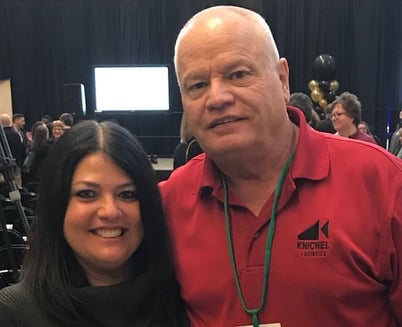 It is with great sadness that we announce the recent passing of our founder, William R. Knichel.
Bill had a lengthy career in the transportation industry that spanned over 40 years. He initially worked at the Kansas City Southern Railroad and then went on to the Missouri-Kansas-Texas (MKT). Bill began his work in the Intermodal marketing business in the 1980's with National Piggy Back, and then went on to work with Fort Pitt Consolidators before starting his own agency with MCS in 1995, which ultimately became Cornerstone Systems. The formation of Knichel Logistics then followed in April of 2003.
Anyone who had the pleasure of meeting Bill got to know his larger-than-life personality and enthusiasm. Bill's greatest accomplishment in life was starting Knichel Logistics, and having the ability to pass on this legacy to his children. Bill was very much loved and will be greatly missed by many - especially by his Knichel Logistics family.
He was very passionate about giving back to his community, so in lieu of flowers, please send donations to a nonprofit very dear to his heart; Defenders of Freedom Pittsburgh. https://defendersoffreedompa.us/donate
"Life is too short to not eat dessert first." - Bill Knichel