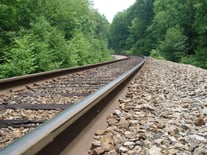 Every once in a while, it's nice to take some time to reflect on experiences in which you've been shown that customers truly value what you provide for them. It's all too easy to talk about how wonderful your service is, but actions speak louder than words. Below are a few of our recent service accomplishments, or logistics case studies, on the intermodal side.
SUCCESS STORY #1
:
Paper Manufacturer
A paper manufacturer out of the Pacific Northwest that Knichel Logistics had been courting for ten years recently awarded us a substantial amount of intermodal business. They had been using two major national carriers for intermodal exclusively for years, however they were having severe service issues with one of the providers, so their primary goal was to replace them with another company who would better service their approximately 100 loads per month. Knichel Logistics participated in a mini-bid 4th quarter of 2015 that involved four intermodal providers. We were unfortunately not competitive after submitting the first set of rates, but we were able to get feedback that allowed us to go back to the rails and other underlying carriers to negotiate more competitive rates. Ultimately, Knichel Logistics was awarded the business and handled over 1,500 shipments (approximately $2.5 M in revenue in 2016) as the major provider's replacement. The best part, beyond winning this business after devoting ten years trying to do so, is that the customer was only anticipating us to get the one provider's business alone, yet we were able to penetrate into the other provider's lanes as well because of our service. Once the customer saw how well we were doing with the first group of lanes, within 3 weeks they contacted their UP national accounts rep and asked if they could help us on the rate for another lane that their second provider was handling. The UP helped out some and the customer in turn handed over another 500 loads that their second provider was handling due to our superior service!
SUCCESS STORY #2:
Food and Beverage Manufacturer
Knichel Logistics started doing intermodal business with this particular food manufacturer out of Chicago, IL, back in 2012. At that time, we were competing primarily against two fairly large national providers. Due to tremendously positive feedback from their traffic team in regards to our service, we became their #1 intermodal provider in our first year of doing business with them. Since then, have been one of three intermodal providers that they use exclusively. In 2016, we handled approximately $1M in revenue (a $400-$500K increase) with the majority of it taking place during their peak season of March through July. This was based upon a successful bid result and continued happiness with our level of service and total understanding of their seasonal shipping needs.
SUCCESS STORY #3:
Food and Beverage Manufacturer
Our customer, a sauce manufacturer on the west coast and a vendor of many of the same food distributors that we ship rice to, was having tremendous issues getting a load delivered. Jeff, the traffic manager, called our veteran load coordinator, Sue, one morning to ask her if something was possible. He moved a shipment from OR to TX with another IMC. The shipment had arrived into the destination ramp and his carrier kept telling him daily that it would deliver. But at the end of each day, the carrier would apologize and make up an excuse as to why it couldn't be delivered. The container unfortunately sat for Jeff, so he asked if Knichel could go in and grab the container and deliver it for him. Sue spoke to Knichel management and was told that as long as she was given the rail pick up number by the original IMC, that Knichel could have our carrier go in to pick it up and it would still remain in the original IMC's name. Sue arranged with a carrier who had power to let the customer know they could deliver. Our carrier went in, secured the container, and had it delivered to the customer with zero issues. This other IMC failed in delivering a container after it sat for 11 days, while Sue got it delivered same day.
Knichel has had this customer for years and have taken over nearly all of their intermodal needs. This is all due to superior customer service and is not the first instance in which Knichel Logistics has gotten the business despite having slightly higher rates than the competition. In this case, Knichel Logistics recovered a load that was not even dispatched to us because of extreme failures on the part of the competition.