Pretty much everyone knows that the Class I railroads stretch across all of the United States, into Canada and parts of Mexico, making it an incredibly viable alternative to truckload and a great way to increase your logistics efficiency. However, some opportunities are more ideal for intermodal than others.
What Works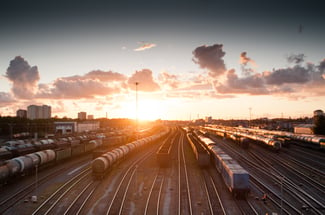 An ideal intermodal opportunity typically has the following two key components:
Origin and destination points are close to the rail terminals.
Long length of haul.
There are some exceptions (the Midwest for example), but in general if it is over 1500 miles and within 50 miles of the origin and destination rail terminal (assuming rail service between the terminals), intermodal is at its competitive best. Knichel's current length of haul for intermodal is just less than 2,000 miles per shipment.
What Doesn't Work
In general, intermodal is not at its competitive best if these components are in place:
Under 1,000 miles (although the rails are continuing to focus on the 600-1,000 mile lanes by making the service more truck-like in regards to transit, in general rail is still not competitive here). Any lane that is over 600 miles with origin and destination points close to rail facilities is worth looking into, and at the very least can be viable if trucking capacity is tight.
Origin and/or destination points are a relatively long distance from the rail terminals.
As before, there are exceptions to this. For example, Chicago to Atlanta, Dallas, Denver, and New York are less than, close to, or only slightly more than 1,000 miles, yet these are all significant volume intermodal lanes. We have found, however, that our ability to compete in these lanes is impaired if we incur significant drayage costs at either or both ends.
Want to learn more interesting information about intermodal shipping? Download Knichel Logistics' free Ultimate Intermodal Primer below!