We did it! Knichel Logistics is a winner of a 2019 Fast 50 Award!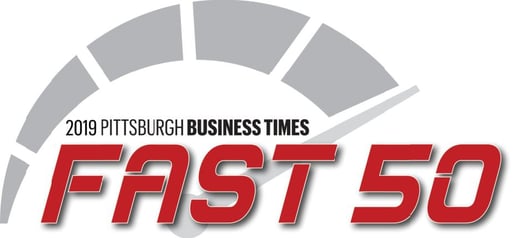 This award, formally known as Fastest Growing Companies: Pittsburgh 100 has become more exclusive in narrowing down its winners in half and represents the Pittsburgh Business Times' ranking of our area's fastest-growing, privately held companies.
Needless to say, this is a very tough list to make! This year's rankings were based on rapid revenue growth between 2016 and 2018 for companies located within the Pittsburgh region. Our tremendous growth over the course of 2018 definitely helped seal the deal - we have our wonderful customers and hard-working employees to thank for this.
The rankings have yet to be released, so we will have to wait until the awards ceremony on August 28th, 2019 at Rivers Casino in order to find out exactly where Knichel Logistics stands compared to the other 49 awesome companies on this list. Check them all out here: https://www.bizjournals.com/pittsburgh/promo/Fast50List2019
Stay tuned for pictures from the ceremony and for the official rankings after August 28th!
8/29/19: And the rankings are in! Knichel Logistics made it onto the 36th spot on the list! All of the official rankings are listed here: https://www.bizjournals.com/pittsburgh/news/2019/08/28/where-each-company-ranked-on-the-fast-50-list-of.html?iana=hpmvp_pit_news_headline
Thank you again to our tremendous customers, carrier partners, and fantastic staff for helping us achieve this prestigious honor.