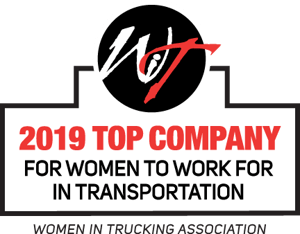 We did it again! The Women In Trucking Association has named Knichel Logistics a 2019 Top Company for Women to Work for in Transportation and we could not be more honored. The winners of this award were announced this morning on the final day of the Accelerate! Conference & Expo in Dallas. The full list of winners can be found here: https://www.womenintrucking.org/top-companies-for-women-to-work-for-in-transportation-named-by-wit
Key features of those winning this award are corporate cultures that foster gender diversity; competitive compensation and benefits; flexible hours and work requirements; professional development opportunities; and career advancement opportunities. Congratulations to all of the companies who've made the list!
Our CEO Kristy Knichel was in Dallas for the conference, as she was named a finalist for the ninth annual Influential Woman in Trucking award. She unfortunately did not win this year's award - that honor went to Ruth Lopez of Ryder System, Inc. Congratulations to Ruth, it was well deserved!
Thank you to the Women In Trucking Association for naming Knichel Logistics a Top Company for Women to Work for in Transportation AND a Top Woman-Owned Business this year!