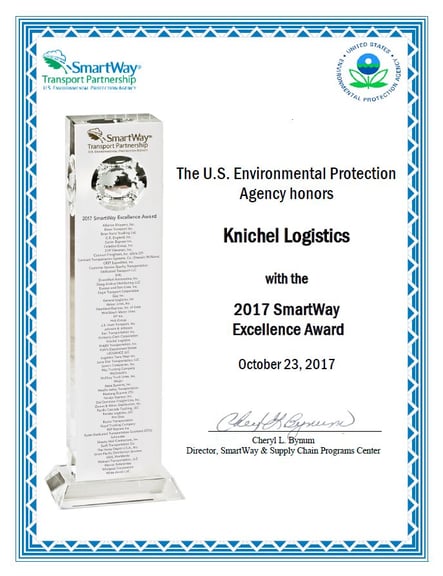 Knichel Logistics is fully committed to doing its part to help protect the environment and support sustainability. As proud recipients of the 2017 SmartWay Excellence Award, reducing our carbon footprint and engaging in environmentally friendly practices is always a high priority for us. Below are some of the initiatives that we undertake to remain sustainable:
CORE COMMITMENTS AND ACTIONS
As a participant in the SmartWay Transport Partnership, a program operated by the Environmental Protection Agency to reduce transportation-related emissions, Knichel Logistics is focused on working with carriers that have optimal operational environmental performance levels.
In addition to collaborating with fuel-efficient carriers, Knichel Logistics also moves a substantial amount of freight via rail, which is one of the most fuel-efficient modes of transportation. Not only are freight trains more fuel-efficient than trucks, they also emit less environmentally harmful by-products. So, whether your needs are best met by either intermodal or over the road transport, keep in mind that Knichel Logistics supports environmentally friendly options in both modes.

Internally, the office environment has switched to an entirely paperless system. All documentation is digitally scanned within our transportation management system to avoid costly and wasteful ink and paper use.

Energy efficient lighting has replaced fluorescent bulbs within the office and all employees have taken part in ensuring that all applicable waste materials are recycled.
REPORTING STANDARDS AND DATA VALIDATION
All carrier onboarding documents and data are entered by our finance department to ensure consistency in our TMS software. All of the departments follow detailed standard operating procedures when entering data into the TMS to ensure data reliability.

The carrier onboarding process is further validated by the Director of MIS along with the operations team to ensure that SmartWay information is captured accurately, SmartWay certified carriers are given priority over non-certified carriers, and adjustments to procedures are made when necessary.

Reports are run periodically to verify that the use of SmartWay certified carriers is maximized.