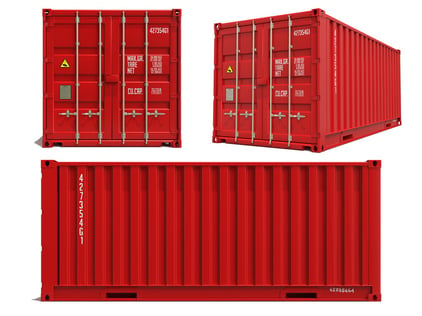 Knichel Logistics has extensive experience in optimizing our customers' intermodal freight by utilizing small boxes (40' and 45') when the conditions are right – saving both money and alleviating capacity issues in the process. Our small box program is yet another option to get your freight moving in the most cost-effective manner possible. As a solution provider, we can help you determine if our small box program will work with your freight.
What Works Best in Small Boxes:
Heavy, high density commodities or those that weigh out before they cube out can be a good option and more cost effective depending on the lanes. Partial loads also work well. Commodities such as paper products, lumber, or canned food are great examples of those that would work well in small boxes.
Shipments that originate in major markets going to the west coast are primary small box lanes. Major metropolitan cities throughout the central and eastern United States going to Los Angeles, Oakland, Portland, Seattle and Vancouver are ideal. We do have providers who move in non-traditional lanes, but they prefer to see volume before committing. Options are available depending on circumstances.
If your shipments are less time sensitive, small boxes are a great option. Although rail transit will be similar to what one would experience shipping 53' containers, container capacity, among other factors, may increase the overall lead time that is needed to ship effectively via small box containers.
As mentioned previously, small boxes are generally more cost effective. This is due to the fact that the U.S. imports far more than it exports which leaves an imbalance of empty small boxes throughout the country. In an effort to mitigate empty re-positioning costs, the steamship lines will work with companies such as Knichel to leverage its customer base to find loads to ship back to generally west coast port cities such as Los Angeles. Since the steamship line will ultimately have to ship the containers back empty, they are in a position to offer very attractive pricing. The ultimate result is a lower cost option for you!
Why Knichel for Small Box Solutions?
Knichel Logistics has relationships with the majority of the major steamship lines, in addition to various wholesale providers that provide a significant source of capacity.
Besides having years of experience providing small box solutions to our customers, Knichel Logistics has an extensive drayage network that handles the intricacies of shipping small boxes.
If you think that your freight might work well in a small box, or if you have questions about our small box program, click the button below to get in touch with our team for answers! We also have a handy guide that shows our small box intermodal network points, container specifications, and what works best for this type of service - just follow this link to download it for free.