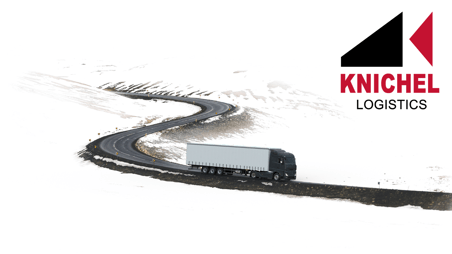 As winter continues on and temperatures drop across the country, the entire transportation industry must be prepared for severe winter weather. While severe weather can occur at any time of the year, winter brings its own set of challenges in the form of snow, ice, and blizzards. These winter hazards have a large impact on the freight and transportation industry.
Dangers of Severe Winter Weather
There are many dangers caused by severe winter weather. Blizzards and storms create low visibility, high winds, freezing temperatures and icy roads which can lead to accidents, road closures and even make highways impassable. This then can result in trucks being stranded or forced to take detours, which can cause significant delays in delivery times and increase the risk of cargo being damaged or lost. If the weather conditions are too severe, carriers may choose to halt operations altogether for safety reasons, further exacerbating delays. For the overall transportation industry, these delays and accidents can cause backups.
All of these delays and risks can also lead to an increase in cost. The longer a truck is delayed, the more it costs, as fuel and driver expenses will increase. Additionally, if a truck is forced to take a detour or is stranded, the carrier may have to pay additional fees for storage or cargo handling. If somehow the cargo is damaged or lost due to weather conditions, carriers may have to pay for replacement or repairs. These fees can quickly add up, significantly affecting the carrier's bottom line.


What Knichel Logistics does to Mitigate Dangers and Costs
At Knichel Logistics, we understand the importance of preparing for winter weather and maintaining the safety of our drivers and cargo. We have installed many protocols and procedures to ensure that we are prepared.
Firstly, our team closely monitors weather forecasts, alerts, road conditions and potential delays, in order to stay ahead of approaching storms. Since we cannot control the weather, the biggest thing we can do is stay informed and aware. We then make sure to communicate with customers in the event of delays or disruptions. We also work closely with our carrier and other industry partners, such as truck stop operators and fuel providers, to stay up to date on road conditions and potential delays.
Secondly, in the case of severe winter weather, we take all necessary steps to ensure the safety of our drivers and the cargo we transport. We have contingency plans which include procedures for dealing with delays, communication protocols, and even emergency accommodation for stranded drivers. These plans address any potential disruptions that may impede drivers' abilities to transport goods safely and securely.
Lastly, to help mitigate the risks and costs, we make sure our carriers' trucks and drivers are prepared. We ensure that all of their vehicles are equipped with the necessary winterization and safety features, such as snow tires and chains. Additionally, the drivers we choose are properly trained to handle winter driving conditions. Not only does this help keep drivers safe, but also helps to ensure our customers' cargo arrives at its destination on time and in good condition.
Severe winter weather can have serious affects on not only individual shipments but the over-arching transportation industry. This is why it's important for shippers, carriers, and brokers to understand the potential impacts and take steps to mitigate them. At Knichel Logistics, we are committed to ensuring that our customers receive the best service possible, even during the harsh winter weather. We stay informed and aware, communicate all delays, follow contingency plans and work closely with our carrier partners and customers to minimize this impact.