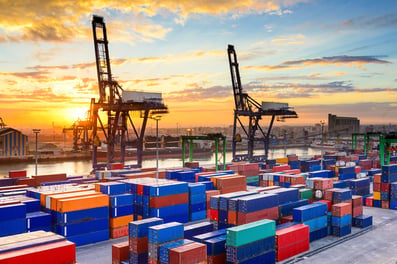 Freight volume handled by 3PLs grew across all modes in the latter half of 2017, as did spot market rates which hit record highs at year end. According to WSJ, spot-market prices for dry vans are up more than 20% year-over-year with analysts expecting long-term contract rates with carriers to rise by between 5% and 8% this year. So how did we get here and what do shippers need to know to navigate this type of market?
To recap, these are the reasons for tightened truck capacity and what's on the horizon:
2017 was a good year for the U.S. economy.

Real GDP increased 2.3 percent, compared with 1.5 percent in 2016.

Bear in mind that the global economy is expected to rise as well which will impact domestic capacity.

Severe weather impacted the last half of 2017 - two large hurricanes and the east coast "bomb cyclone". These events tightened capacity even further.
There are not enough drivers to handle the demand, so carriers are buying up trailers and moving to drop and hooks to fully utilize their resources and keep trucks moving.
Be forewarned that April is both produce shipping season AND when the ELD mandate takes full enforcement effect. This is a double whammy on the capacity front as drivers will be diverted to handle produce shipments, while those that haven't become compliant with the mandate will likely be removed from service.
We still don't fully know the impact of the ELD mandate, but it has definitely pulled smaller carriers out of the market. We expect to see the full breadth of the effects of this regulation after enforcement begins in April. As a side note, some carriers have been swapping their newer trucks for older models in order to sidestep the regulations (trucks manufactured prior to 2000 are exempt according to FMCSA) while some with newer model trucks are driving faster to make up for lost productivity from the mandate.
Also worth noting:
Diesel prices are near a three-year high.
Fleets are working to add capacity, but it takes time to catch up with demand.
Carriers are being more selective with regards to shippers they are willing to work with. Those that hold truckers up will be the first to be let go.
3PLs are bearing the brunt of decreased margins from the capacity crunch and the subsequent rate increases. Many logistics companies have been struggling to keep up with rising carrier prices and have had a hard time passing those increases along to shippers, especially those under annual contracts. Anticipate annual contract pricing to rise in the near future, if it already hasn't.
Increase in e-commerce activities has been a game changer for how trucks are used. Small, but numerous orders often with same day deliveries are filling up LTL vans. Truckload freight is likely shifting to LTL while capacity remains tight. Keep an eye out on LTL carriers being more selective on the freight they take on as well.
Tight capacity is REAL. This is not something that carriers are making up to price gouge customers.
So, what can you do as a shipper? We advocate viewing your transportation provider as a strategic partner, especially in these situations. It pays to have a solid mix of transportation providers as allies, and it also helps to be flexible. Whether being open to switching modes, equipment type (if possible), or providing flexible pickup/delivery options – every little bit helps.
As a word of caution, posting the same lane with multiple brokers just to get it covered is not a wise strategy at this time. There are only so many trucks out there – we are in essence all fighting for the same trucks. We have seen an instance or two where this strategy has backfired and the shipper(s) actually had a hand in increasing their own rate in an effort to find a better price in this market.
If you are waiting for full truckload capacity and are trying to get product to your customers, consider using LTL as an alternative. Partial shipments are also a viable option along with expedite services. On that note, continue to brace for an extended capacity crunch as the economy holds steady.