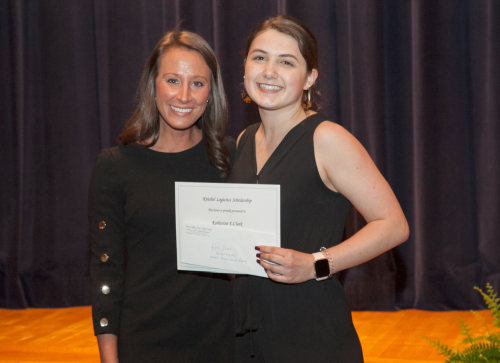 On May 20th, the annual Positive Athlete Title IX scholarship award sponsored by Knichel Logistics, was given to Katie Clark, a Seneca Valley senior swimmer.
Katie's Story: Katie's senior year started off on a fairly good note in that she did not have much trouble qualifying for 2 events at this year's WPIAL Championship. As the season went on, her progression was steady, but then she started to regress all of a sudden. About one month away from the WPIAL Championship, she began to miss practices because she was feeling ill. At the last meet of the season, she was barely able to complete races where she was usually one of the top contenders. She went to the doctor and tests confirmed that she had mononucleosis.
It was a devastating blow to Katie and she feared she wouldn't be able to swim at her last WPIALs. Each team is only permitted to enter 4 athletes in each event, and there were a few events where we had more than 4 girls qualify. Knowing she was not going to be at her best, Katie offered to withdraw her spot from one of her events so that a freshman girl was able to compete in her first WPIALs. Katie swam one event at WPIALs, but didn't reach her goal of earning a medal or qualifying for PIAAs. Nevertheless, she refused to quit fighting when she had an excuse to, and selflessly put her team in front of herself.
Per Kristy Knichel: As a 1995 Seneca Valley graduate, I am honored to be able to give back to my local community and high school every year for the Positive Athlete Title IX award. This award ensures that there is equality in sports for women. It is extremely important to me that we acknowledge students that are staying positive in not so positive situations, not only in sports, but also in work and daily life. I am very honored to give this award to Katie Clark. She has shown great strength and positivity within her swimming at Seneca Valley. Please keep up the great work and positive attitude. We need more people like you in this world! Congratulations!