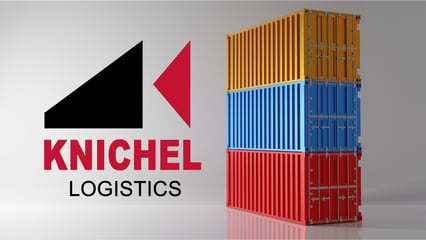 When booking transportation for your freight, there are many different options to choose from, all with their own strengths and weaknesses. At Knichel Logistics, we offer a wide-variety of these services including over the road (OTR) or full truckload (FTL), less than truckload (LTL), and intermodal. While intermodal has its tradeoffs, it can be very beneficial depending on your needs.
What is Intermodal?
Intermodal is a mode of transportation that mixes rail usage along with short truck movement, and sometimes boat and air. Typically, it is used for long-haul movement, which are trips that exceed over 700 miles. Sometimes it may be more efficient to use intermodal for trips less than 700 miles if there are short ramp lanes. Another term people use for intermodal is truck-rail-truck.
With intermodal, trucks pick up the freight and travel a short distance to the intermodal ramp, where the container is placed on a rail flat or well car. The freight is then transported a significantly longer distance via rail, until once again it is picked up at the intermodal ramp by a truck and delivered to its destination. The short truck movement to and from the intermodal ramp is called drayage.
Benefits:
1.) Cost Savings
Intermodal can be very price competitive with motor carriers in lanes exceeding over 1000 miles, such as coast to coast. Additionally, there are other instances where intermodal can be cheaper, such as when the distance between the intermodal ramp to the origin and destination terminals are short.
2.) Fuel Efficient
Compared to FTL, shipping is four times more fuel efficient. This is because one train can carry as many loads as 280 trucks worth. Another reason it saves on fuel is because it reduces empty miles, which is the mileage accumulated whenever the truck's container is empty on the road.
3.) Conscious
Because it saves significantly more fuel than FTL and involves less trucks on the roads, intermodal is more environmentally friendly comparatively. This also means it helps to reduce congestion on highways.
4.) High Capacity
Since one train can carry 280 truckloads worth of freight, another big advantage of intermodal would be its ability for high capacity. This is especially important during peak season when truckload capacity decreases while price increases because of supply and demand.
There are many benefits of intermodal transportation depending on your needs. The best solution to determine whether or not intermodal is the right choice is to consider your needs. If you need long-haul transportation, want to reduce fuel emissions and highway congestion, or need high capacity during peak season, then intermodal may be for you.
At Knichel Logistics, we are dedicated to helping our customers find the most cost-effective and efficient shipping solutions. If you're unsure whether or not intermodal is the best fit for you, our team of experienced logistics professionals can help you find the shipping method that best suits you. Contact us today to learn more about how we can help you with your logistics needs.