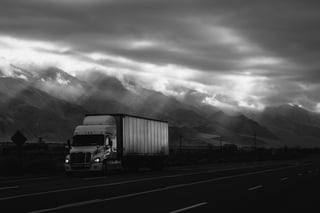 You may already be very aware that truck capacity has been tightening steadily across the country. There is also a large-scale driver protest starting today, October 3rd, and running through Sunday, October 8th which may turn into a national strike. This will also obviously add to the difficulty in booking trucks during this time period.
What is happening?
There are several reasons for the strain on trucks. First off, freight demand is hitting peak levels which means that available trucks are hard to come by. Spot market volumes have hit an all-time high, in particular. Load-to-truck ratios are high, thus rates are continuing to climb. Price often lags with volume, but contract rates are expected to move more in line with spot increases. Demand is greater than supply, therefore capacity is tightening nationwide.
Another huge factor in shrinking capacity is the ELD mandate taking place on December 18th, 2017. This will lower capacity even more and also increase rates. Estimates say we are expected to lose 3-5% in capacity due to this mandate – possibly even more. This mandate will cause some smaller carriers to leave the market because of the cost of installing the technology in fleets. A rally called "Operation Black and Blue" is taking place this week in Washington D.C., Northern and Southern California, Seattle, and New York (and possibly more locations), and involves protests and driver strikes to rally against the ELD mandate and to advocate for fair wages for drivers.
Why is this happening?
These protests are taking place primarily because of the ELD mandate. Carriers, fleet operators, and drivers argue that the costs of installing this technology are prohibitive and they do not want federal oversight. Again, the striking, protesting, and potential loss of drivers will definitely tighten capacity further.
The other issue causing tighter capacity is the fact that two major hurricanes have just ravaged the southern United States and have led to a ripple effect in regards to nationwide shipping. Trucks have been diverted with supplies to help those impacted and routes are still feeling the effects of the storm damage.
What does this mean to our customers?
While trucking capacity continues to tighten, we are stressing the importance of communication and collaboration between Knichel Logistics, customers, shippers, and receivers. In conjunction with these efforts, Knichel Logistics:
Will work to honor contract rates, or rates quoted prior.
Will notify at time of tender if any rate needs to be altered.
Will provide all available options (alternative shipping solutions, such as intermodal) to customers prior to turning away capacity.
Will offer increased transparency with costs.
In addition, we are asking our customers to provide:
48 hours' notice or more for pick-ups
Flexibility with pick-up dates/times
Ship date at time of rate request, if known
Other things to be aware of:
Customers are providing rate relief based on the cost of the truck at time of pick-up and are moving deeper into routing guides than ever before. Shippers will be putting out more freight to the spot market for rates and will be approving higher rates to get their product moved.
Please be aware that fewer carriers will be willing to lock in pricing for extended periods of time because of the lack of capacity. They will be more selective on freight moved because this is now a "carrier's market". We do not foresee this capacity issue easing up any time in the near future. It will likely carry on well into 2018 because of the ELD mandate at the end of the fourth quarter.