At Knichel Logistics, we offer a wide-variety of services including specialty services like temperature controlled less than truckload (LTL). If you are unsure if our temp-controlled LTL services will benefit you or unsure what it is generally, we are here to help!
What is temperature-controlled LTL?
Temperature controlled LTL is when freight is run in trailers with an attached refrigeration unit that is continually moving cold air at a set temp. These trailers also have heavy duty seals for their doors, insulated walls, and thermometers to help maintain the required temperatures so that your products won't deteriorate or perish while in transit.
Do I need to use temp-controlled LTL?
Items that need temp-controlled shipping include food products such as produce, meats, dairy, or any frozen, refrigerated, or heated goods that can't be stored on the shelf, along with certain chemicals and medicines. Sometimes cosmetic and other miscellaneous items may require temperature-controlled shipping.
Additionally, if the goods you are shipping are small sized or a quantity of goods that would only fill part of the trailer, it's best to go with LTL as opposed to FTL (full truckload) as depending on size, stowability, and other variables, you will be saving yourself significant money.
At Knichel, we currently only have carrier options that transport food products. In addition, we also are unable to move produce and ice cream. Moreover, while we run frozen (0 degree) and refrigerated (24-40 degrees) freight, our carriers do not run at higher temps for items such as chocolate.
What to be prepared for when using/scheduling temp-controlled LTL:
While temp-controlled LTL services are extremely useful and effective, spots are extremely competitive. Firstly, most temp control LTL carriers have set schedules for pickup and delivery. Many only pickup on Thursdays or Fridays to deliver the upcoming week. Additionally, space is limited, so it fills up quickly for the week. Be prepared to call and schedule with us as soon as you can, as we need to set you up with our carriers as quickly as possible.
Our temp-controlled LTL services:
At Knichel, we have an extremely knowledgeable LTL department, with strong temp-control LTL connections and competitive prices. Our current areas we are servicing for LTL temp control include the West Coast, East Coast, and parts of the Midwest and South: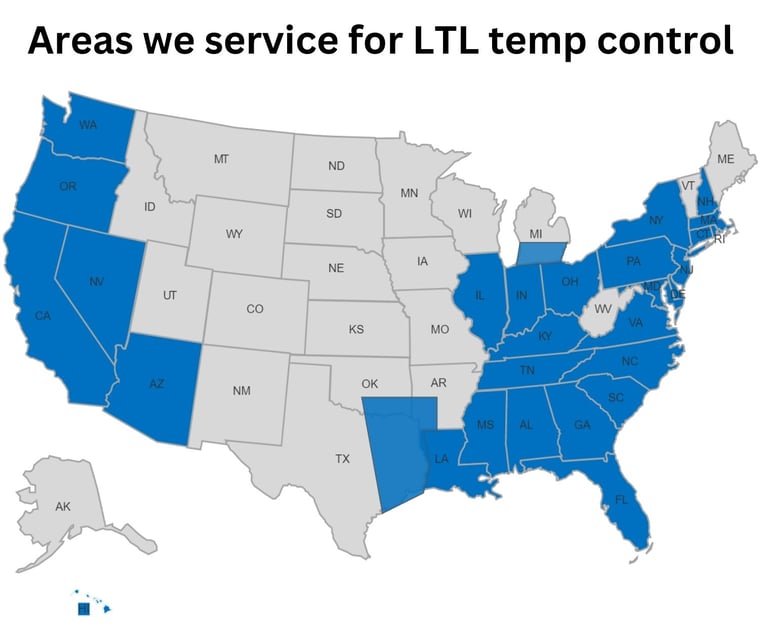 Navigating the realm of LTL or the transportation industry is confusing and stressful. At Knichel, we try to help people learn the ins and outs so that you can choose the best options for yourself and your business. If you have any questions regarding temp-controlled LTL or LTL in general, get in touch with us!