---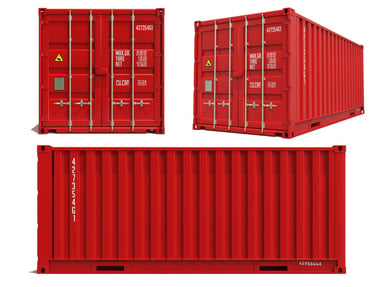 Not every commodity can be shipped in an intermodal container. Some commodities are strictly prohibited from rail shipping, while some are restricted.
Prohibited articles are not accepted by the railroads under any circumstances. Generally a commodity is prohibited because it is dangerous or could damage equipment. Those that are restricted can be moved via rail, but cannot be moved under FAK (Freight All Kinds) STCC codes. A STCC code is a seven digit numeric code representing 38 commodity groupings. Appropriate STCC codes must be used for these commodities, or large penalties may be assessed.
So, what are prohibited commodities and what are restricted commodities?
---
PROHIBITED:
Regardless of Equipment Owner:
Items or substances considered as illegal contraband by any state or federal government entity, forbidden to be owned or possessed, or forbidden to be transported by any government entity when loaded on railroad owned, controlled, or leased equipment as well as private equipment
Used batteries (electrical) spent, with or without chemicals
Any material, cargo or products, defined in the Hazardous Materials Table as "toxic by inhalation" or "inhalation hazard"
Flammable compressed gas when loaded in ISO Tank Containers or portable tanks
On Railroad Owned, Controlled, or Leased Equipment:
Blacks - carbon gas, oil blacks, lamp blacks, vegetable blacks, dry NEC, not activated, no dyes or dyestuffs
Bulk commodities
Coal or coke, regardless of packaging
Asbestos and hazardous waste or liquids
Hides, furs, pelts or skins, green or green salted
Municipal garbage waste, solid, digested and ground, fertilizer material or sewage waste
Sodium compounds
Used machinery, equipment, auto parts, assembled or in components
---
RESTRICTED:
Aircraft or airplanes, their parts or components
Animals – live, refrigerated, frozen, fresh meat, and packing house products
Animals – trophies, stuffed or mounted, or research cadavers
Bulk non-hazardous liquid in flexitanks/flexibags
Calcium Carbide
Ceramics
Tobacco products
Extraordinary value items such as bank bills, coins/currency, deeds, drafts, notes, valuable papers of any kind, carcasses, jewelry (other than costume or novelty), postage stamps, US Mail, precious metals or articles manufactured from precious stones, revenue stamps, antiques, collectibles, or any other old, rare, or precious articles
Fish, shellfish, crustaceans – fresh or frozen
Fruits or vegetables
Hides, furs, pelts or skins, green or green salted.
Ice cream, ice, frozen novelties
Loaded temperature controlled trailers or containers
Marine vessels, unless individually crated and properly blocked and braced
Medical equipment, supplies, or hardware
Pharmaceuticals, prescription and non-prescription medication
Metal coils, rolls, reels, or spools when gross weight exceeds 3,500 lbs
Military communications outfits
Military tracking, radar, communications, electronics, or surveillance equipment
Any items moving in conjunction with military field exercise
Guided missiles, rockets, guidance systems or electronic guidance control for installation in missiles
Motor vehicles of any kind, unless individually crated and properly blocked and braced
Over dimensional shipments
Plants, trees, flowers – living or fresh cut
Raw wooden logs (in railroad equipment)
Trailers, modular housing, prefabbed housing – units must ship empty
Used business equipment, office furnishings
Household goods and furnishings
Used machinery, equipment, or auto parts
Used tires
Consumer electronics
LTL shipment lot
US Mail of any kind
Packages or parcels
Articles as defined in Bureau of Explosives Tariffs
New auto parts or components
So there you have it - a comprehensive list of what cannot be moved via rail and what can be moved via special restrictions. For more information on intermodal, check out this post about what works and what doesn't work when shipping over the rails.